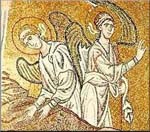 "An Anthology of the Holy Week Hymns"

Epitaph

The sermon of the Epitaph from the album «Mega Savaton»,
chanted by the Choir of Vatopaidi Fathers, a publication
of the Vatopedion Holy Monastery, Mount Athos and the Crete University Publication.





Songs of the Resurrection

Serbian Woman Choir "St. Kassiane"

From the album «The Hilandarion Musical Treasury», Vikentije of Hilandar,Saint Kassiane Choir





"Christ Has Risen" in Arabic, Greek and French

From the album «Service of Easter», Choir of St. Romanos Melodos,
St. George Patriarchal Monastery, Al-Humayrah Talkalakh, Syria.




Hymns of the Holy Week
"Alleluia", Plagal Mode
Kanon of Holy Tuesday, 2nd Mode


From Passion to Ressurection

Chanters: Kon. Bilalis, Ath. Papathanassiou, Dr. G. Bilalis

GEORGIOS II REDESTINOS - HYMN OF THE THREE YOUTHS (1.31)
"Ton Kyrion Imnite", 1st Mode

GEORGIOS II REDESTINOS - INSTEAD OF ALLELUIA (2.02)
"Anasta o Theos", Mode Varys

IAKOVOS PROTOPSALTIS - INSTEAD OF CHERUVIKON (9.02)
"Sigisato Pasa Sarx", 1st Plagal Mode

THEMISTOKLIS GEORGIADIS - EOTHINON VII (5.33)
"Idou Skotia ke Proi", Mode Varys

ATHANASSIOS KARAMANIS - DEFTE LAVETE FOS (COME RECEIVE THE LIGHT) (2.10)
"Defte Lavete Fos", 1st Plagal Mode
GEORGIOS II REDESTINOS - PRERESURRECTIONAL HYMN
"Tin Anastasi Sou, Christe", 2nd Plagal Mode
Listen to both sound extracts by clicking here.

GEORGIOS II REDESTINOS - CHRIST IS RISEN – THE MELODOUNDES CHOIR (2.11)
"Christos Anesti", 1st Plagal Mode

GEORGIOS II REDESTINOS - KATAVASIAE – THE MELODOUNDES CHOIR (3.53)
"Anastaseos Imera", 1st Mode

GEORGIOS II REDESTINOS - ODE IX - TROPARIA –THE MELODOUNDES CHOIR (2.19)
"Megalinon, Psyche Mou - Fotizou", 1st Mode